SUBMARINE NR-1
There are a number of unique things about the SUBMARINE NR-1. The name and hull number do not follow conventional Navy practice. You'll note that this is not the USS NR-1 or USS anything. The commanding officer is not the Commanding Officer, but rather, his title is Officer in Charge. This might be the only submarine with tires. With those points to ponder, here are some facts that were only recently declassified.
Admiral Rickover conceived of the idea of a nuclear-powered research submersible in 1964. Previous research subs had limited time underwater, and were extremely limited in their range of operations once they dove. With the concept considered viable, Rickover gave this ship her name in March of 1965; NR stands for Naval Reactors, and the inestimable Rickover thought that this, the number 1, was but the first of a series of similar vessels. She was launched and subsequently placed in service in 1969. (We never built another.)

For years the Navy denied the existence of the NR-1, or when that was impossible, they gave conflicting and nebulous accounts of this one-of-a-kind vessel. For example, underway photos were routinely heavily retouched, usually removing the fixed mast and prominent television camera that she carries in lieu of a conventional periscope.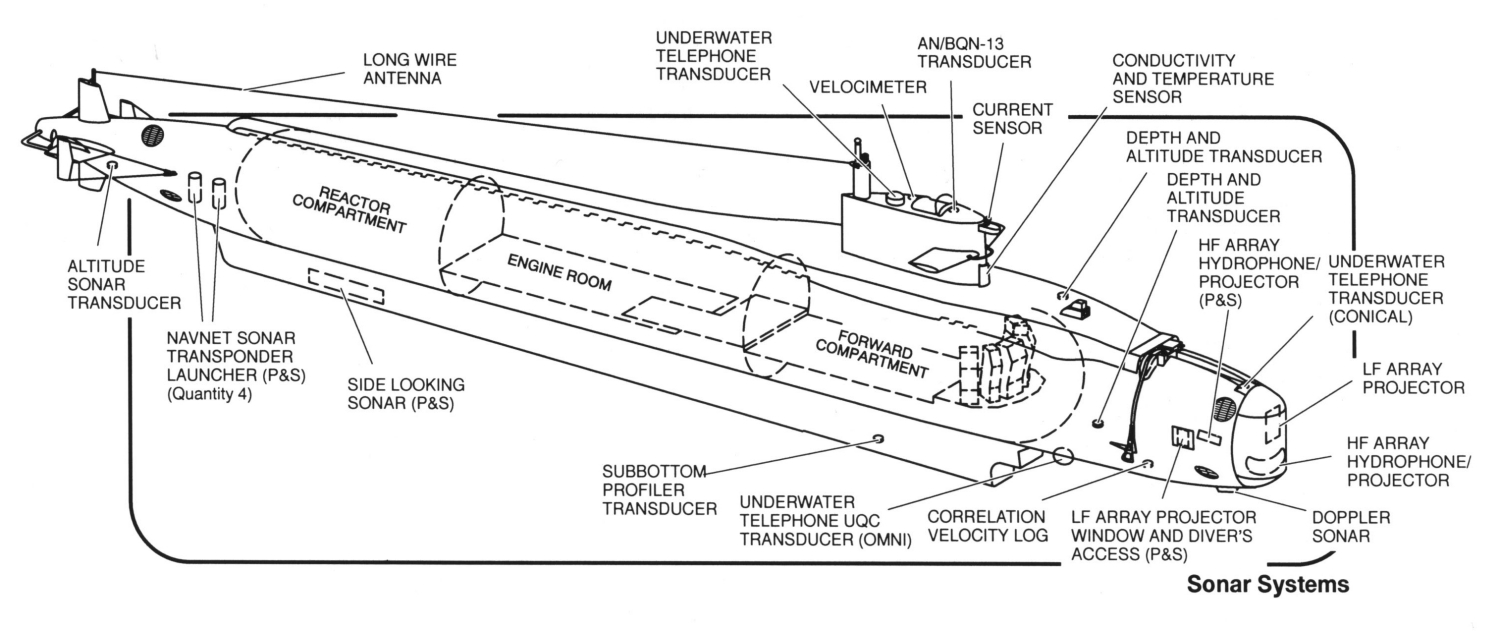 | | |
| --- | --- |
| Displacement: | 365 tons surfaced, 393 tons submerged |
| Length: | 145 feet overall, 96 feet pressure hull |
| Beam: | 12 feet |
| Draft: | 15 feet |
| Propulsion: | Turbo-electric drive, two propellors, plus fore & aft maneuvering thrusters |
| Reactor: | 1 pressurized-water reactor |
| Speed: | 4.5 knots surface, 3.5 knots submerged |
| Endurance: | 210 man-days nominal, 330 man-days maximum |
| Operating Depth: | 3,000 feet |
| Crew: | 11 operators plus two scientists |
The NR-1's underwater endurance is essentially unlimited. She has to surface when the galley's food shelves are empty. Her operating depth is now stated as 3,000 feet, considerably greater than many combat submarines. Her twin screws drive her at 3.5 knots submerged, and she has twin ducted thrusters forward and aft that provide a high degree of maneuverability. She can roll along the ocean floor on forward and aft truck tires that have alcohol-filled inner tubes. Powerful external lights, viewing ports, and controllable arms to grasp objects provide the NR-1 with considerable utilitarian capabilities that include locating and retrieving items on the ocean floor.

The NR-1 is used by the Navy for purely military and otherwise sensitive operations, but she is also used in exploration for such civilian projects as the Titanic's sister ship Britannic, and ancient Roman undersea archeological sites. Her life expectancy carries out well beyond 2012.

(The Russian Navy has three similar vessels, with a fourth believed to be under construction at the time of this writing.)
Return to previous page.